We offer specialized workplace approved courses for individuals that require only CPR training. These courses do no provide any first aid certification. Participants can choose from several CPR courses which are divided by an alphabetical level. The most basic course is CPR level "A" which is sometimes referred to as basic life support first aid. CPR level "C" is more comprehensive and CPR level "C" for health care providers, also referred to as CPR "HCP", is the most detailed and complicated CPR course available. We offer all three of these CPR programs in our training centre in Thunder Bay. All of the CPR courses provide candidates with workplace approved certificates stating the level of CPR and automated external defibrillator (AED) certification.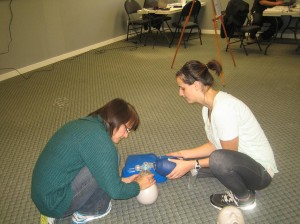 The easiest, shortest and most basic cardiopulmonary resuscitation training course is cardiopulmonary resuscitation (CPR) level A. This course encompasses essential cardiopulmonary resuscitation components such as CPR for adult victims. Participants will also learn the latest techniques to help with choking and obstructed airway victims. Participants also will address issues such as getting in touch with EMS and the legal implications of doing CPR. For more information about this 3 to 4 hour long workplace approved CPR course visit our CPR "A" and AED course page.
The most famous and among the most comprehensive CPR classes is CPR level "C". This program contains all of the information featured in CPR "A". The CPR "C" award can easily be a substitute for a CPR level "A" and AED certificate. This course teaches participants about CPR rescue techniques for victims of all ages. This class is marginally lengthier than CPR A lasting about 5 hours.
The most detailed cardiopulmonary resuscitation (CPR) and AED training course is health care provider CPR and is meant for those who work in the medical and health care environment. This class focuses on all the material within CPR level's "A" and "C" and adds additional instruction pertaining to the use of modern products and trained assistance. This training course is just a bit lengthier than CPR – C. Traditional candidates consist of, but are not limited to, healthcare employees, medical care facilitators, and medical students.
All participants that successfully complete any of these CPR programs will receive a CPR and AED certificate which states the level of CPR training and that is valid throughout Canada.