St Mark James Emergency first aid is just about the most detailed single full day instructional classes offered to Canadians. This class encompasses the most common emergency situations which individuals can encounter. Students participating in this program also will learn simple cardiopulmonary resuscitation (CPR) techniques and tactics. This first aid course is obtainable through the workplace approved and people that complete the class get a workplace approved 1st aid and CPR award / certificate. This post will summarize the details and expectations of a workplace approved emergency first aid program offered in Thunder Bay.
Emergency First Aid and CPR Class Length
The duration of an emergency first aid and CPR class varies according to the quantity and level of skill of the candidates and the CPR option partnered along with the course. Emergency first aid, CPR and AED lessons vary approximately 8 to 10 hrs. This class is often completed in just one entire day. We also offer this course in 2 shorter days.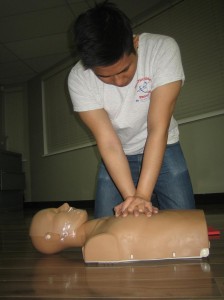 Emergency First Aid and CPR Class Cost / Rate
The price of an emergency first aid program through Thunder Bay First Aid is dependent on the level of CPR training associated with the course. The following are the prices of emergency first aid training offered through this company:
Emergency first aid with CPR level "A" – 75.00
Emergency first aid and CPR "C" – 80.00
All classes incorporate automated external defibrillator (AED) training.
Class Content
Emergency first aid, CPR and AED is comprised of the most common first aid emergencies that might take place. Written below is a short outline of the program content of an emergency first aid class:
General cardiopulmonary resuscitation for adult patients (CPR level "C" involves cardiopulmonary resuscitation for infants and children)
Respiratory Emergencies
Cardiovascular Emergencies
Skeletal Injuries
Major and minor external bleeding
These particular subject areas are covered in depth within a workplace approved emergency 1st aid and CPR program.
Certification and Refreshers
Candidates that pass emergency first aid and CPR will get a card stating that you have completed the course. This particular document also shows education in cardiopulmonary resuscitation and also the use of AED's. Cert provided meet all provincial, workplace and academic specifications for emergency 1st aid and CPR training.
Customers may also enroll into emergency first aid, CPR and AED re-cert programs. These training courses are available for participants who have previously been awarded an emergency 1st aid and CPR certificate and need to replace accreditation.
Learn the easiest first aid, CPR and AED techniques through a St Mark James emergency first aid, CPR and AED training course in Thunder Bay.