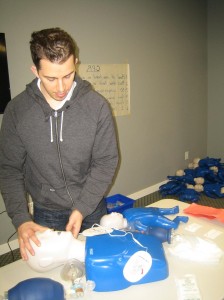 Thunder Bay First Aid gives St Mark James first-aid and / or Cardiopulmonary resuscitation (CPR) renewal / re-certification classes. These types of lessons are intended for candidates that want to renew expiring certificates. All the renewal lessons present successful applicants with awards that satisfy or exceed the accreditation merit of the expiring certificate. Our company offers all attainable renewal training courses at convenient times and at the cheapest costs. Sign up is accomplished quickly and online. This web page outlines the featured refresher classes provided in Thunder Bay, Ontario through Thunder Bay First Aid.
The following re-cert program is created for participants that want to renew out of date standard first aid, CPR and AED certificates in Thunder Bay. This program is around 8 hours in length and incorporates Cardiopulmonary resuscitation (CPR) level "C" renewal. Automated external defibrillator renewal is also provided. Re-cert certificates are good for 36 months.
This particular renewal course is ideal for participants who need to recertify both emergency 1st aid and CPR. CPR "A" comes standard within this re-certification course, although, participants may select cardiopulmonary resuscitation level C to opt with the training course. AED re-certification is included. This class takes 7 hours to finish.
This CPR "only" renewal class focuses only on Cardiopulmonary resuscitation and will not incorporate first-aid renewal. CPR HCP (also known as CPR level "C" for health care providers) re-cert courses are available in Thunder Bay in a number of training centers and at varied times and dates. Go to the CPR "HCP" and AED re-cert page for additional information or to enroll.
This particular re-cert class is regarded as the most in-demand St Mark James re-certs obtainable. This specific course normally takes roughly three hours to do and comprises of AED education. Browse the CPR "C" renewal web page to find out more and / or registration.
Prior to registering into any kind of re-certification course applicants need to fulfill several workplace approved required criteria. Check out the renewal course web page of your preference for additional information or to sign-up. All of the 1st aid and or CPR renewals within Thunder Bay offer credible 3 year awards.