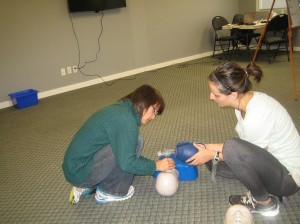 CPR "C" and AED are offered via Thunder Bay First Aid. CPR level "C" educates participant's cardiopulmonary resuscitation and automated external defibrillator (AED) procedures for subjects of every age group. Participants will also find out how to do CPR with patients developing additional complications and with the use of AED's. All students which successfully finish this course will get a workplace approved cardiopulmonary resuscitation level "C" certificate that meets many different official certification standards. Scroll towards the bottom part within this page to subscribe for the CPR "C" program that suits your time frame. This course is for CPR certification solely, no 1st aid certification is included in the course. Sign-up for a CPR level "C" and AED course in Thunder Bay today through us to attain the best education at the most competitive prices.
Program Duration:
The length of cardiopulmonary resuscitation level "C" depends upon the skill level, capacity and education speed of the class. Generally the course takes approximately 5 hours.
Class Price:
At Thunder Bay First Aid we're dedicated to the lowest prices. This CPR course costs a set amount of — dollars. Payment can be achieved on-line via the registration program directly below.
Course Content:
Individuals enrolled in this course will learn about CPR tactics for children, infants and adults. Participants will also learn about fundamental cardiovascular emergencies, legal facets of engaging in CPR and simple specifics of EMS.
CPR "C" Enrollment
To register in a CPR "C" and AED training course in Thunder Bay pick the course time and date from the options down below. Fill in the enrollment pages and process your payment to guarantee a place in the lesson. Room is limited. If you've got any questions or concerns please contact us via telephone or email.
Certification / Awards
Almost all participants complete the CPR "C" and AED training course without difficulty. At completion candidates will receive a St Mark James CPR certificate which fulfills numerous accreditation prerequisites and guidelines. All certificates remain valid for three years. Thunder Bay First Aid also offers CPR level "C" re-cert courses.
Private Lessons
To schedule a private group or individual course visit our "contact us" page.