Customers living in Thunder Bay have the option of registering for a number of different credible first aid courses. Each of the featured first aid courses featured through this company is provided through St Mark James. These courses include training in cardiopulmonary resuscitation (CPR) and in the usage of automated external defibrillators (AED). Courses such as emergency and standard first aid give customers the option of selecting the level of CPR training. For workplace approved childcare first aid training candidates must partner the course with CPR level "B". This page will outline the available first aid and CPR courses for candidates in Thunder Bay, Ontario.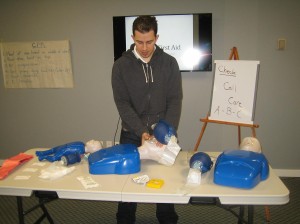 Standard first aid is the most demanded and most popular St Mark James Training course. This is a 18 hour course which includes a variety of topics. This course teaches participants about a range of first aid topics including recognizing and managing victims of respiratory, cardiovascular and sudden medical emergencies. This course includes CPR training and comes standard with CPR level "C". At Thunder Bay First Aid we offer candidates the option to register with CPR level "HCP". To read more about the standard first aid course or to register visit the standard first aid page.
This 8 hour course is among the most popular courses offered through the workplace approved. Participants that attend and pass this course will receive a workplace approved first aid, CPR and AED certificate that is valid nationally for 3 years. CPR level "A" comes with the course, however, students have the option of taking this first aid class with CPR level "C". Participants will learn about a number of basic first aid and CPR skills in this course. For more details, information and registration visit the emergency first aid course page.
This course is offered through St Mark James Training. CPR level "B" comes standard with the course. No other option of CPR training is available for this program which caters to childcare and daycare workers. Successful candidates of this program will receive a wallet sized certificate as well as a wall mount certificate. Visit the childcare first aid course page to view the available dates and times for this course in Thunder Bay.
All of the above mentioned first aid and CPR courses are offered a number of times throughout the week at our training centers in Thunder Bay. Visit the course page of your choosing for more information or to register.