Standard first aid and CPR is regarded as the sought after first aid class designed for Canadians. This is an in-depth class that features lots of different first-aid and CPR subjects. Participants will also be given CPR instruction while in the course. Standard first aid and cardiopulmonary resuscitation re-cert training courses are also offered via St Mark James Training. This post touches on the options and also the specifics of a basic St Mark James standard first aid lesson offered through Thunder Bay First Aid.
Program Duration
The duration of a Standard first aid and CPR certification course ranges from 18 to 21 hours. The duration is determined by the level of cardiopulmonary resuscitation combined with the course and the skill level and experience level of the applicants. CPR level "C" comes standard with the course, however, a more comprehensive level of CPR training (CPR HCP) can also be opted with the course. The length of the standard first aid lesson does not take into consideration stoppages.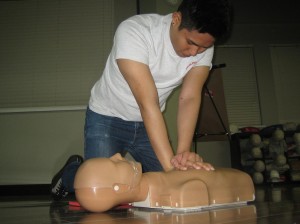 Course Amount
The cost of a standard first aid and CPR training course ranges is — dollars. This cost covers taxes, administration fees and the cost of the workplace approved first aid training manual.
Cardiopulmonary Resuscitation Instruction in the Training course
Generally CPR level C, which has CPR / AED training for child, adult and infant patients, comes standard with the standard first aid course. At workplace approved training venues candidates have the choice of changing to a CPR level "HCP" course. An added flat fee is required for CPR HCP and AED. AED training is included in the course.
Standard First-Aid Course Content
Students that join the program shall learn about environmental emergencies, broken bones, cardiovascular and respiratory emergencies, sudden medical emergencies, CPR and AED use. All these topics and others will be covered in detail inside St Mark James standard first-aid lesson.
Standard First-aid Recertification Course
Almost all St Mark James first aid suppliers offer standard first aid refreshers. These types of lessons only need 50 % of time and typically cost you a lot less. Solely customers that fulfil particular requisites may participate in and become certified through a workplace approved standard first aid and cardiopulmonary resuscitation renewal class.
Standard First-Aid Certifications
Customers that pass the standard first aid class will get an award that affirms successful achievement of standard first aid and cardiopulmonary resuscitation, and education in the utilization of AED's.
Sign up for standard first aid training in Thunder Bay today to have the most comprehensive first aid and CPR schooling available.