Thunder Bay First Aid delivers a selection of stand-alone CPR courses. The foremost extensive CPR course available through St Mark James and made available by Thunder Bay First Aid is CPR "HCP". This specific training course instructs individuals CPR procedures for patients of all ages. Participants will understand how to make use of advanced equipment and trained support. This course is made for people who work in or plan to be employed in medical care field. Automated external defibrillator (AED) education is integrated within the class. Registration is simple and Thunder Bay First Aid offers the best prices for cardiopulmonary resuscitation "HCP" courses in Thunder Bay.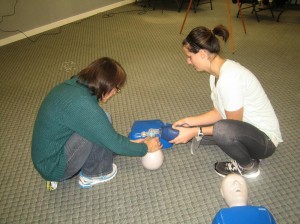 Enrollment
Browse to the foot of the page to enroll into the health care provider cardiopulmonary resuscitation training course of your choice. This course is provided several times a week at various times and locations in Thunder Bay. Payment can be paid for your training course via a number of different options including cash, debit or credit.
Accreditation / Certification
Nearly all participants finish the class without any difficulty. As soon as individuals finish the CPR course they'll acquire a workplace approved award that meets various academic, workplace and employment standards. This award comes with automated external defibrillator (AED) accreditation.
Class Features
This cardiopulmonary resuscitation lesson normally takes approximately 6 hours to finish. Individuals will learn the way to handle a variety of cardiopulmonary resuscitation complications and acquire a elementary introductions to cardiac emergency situations. Candidates will learn how to do 2 person CPR. Application to this class costs Sixty dollars. Included in the fee is certification costs and workplace approved instruction handbook.
Individual Lessons
Non-public CPR HCP lessons are offered in Thunder Bay through this business. Contact us by phone or e mail to book a course.
Re-Cert Classes
Health care provider CPR (CPR HCP) refresher courses are featured at Thunder Bay First Aid. Go to the cardiopulmonary resuscitation HCP re-cert site for additional information about requirements and registration for CPR HCP refresher classes.
Pick a training course from below to sign up for your health care provider CPR training right now. Learn advanced CPR and AED skills and techniques in Thunder Bay through Thunder Bay First Aid.