Cardiopulmonary resuscitation level HCP is an extremely thorough St Mark James cardiopulmonary resuscitation (CPR) lesson available. Customers which have formerly obtained this award can re-cert this award through Thunder Bay First Aid. This unique St Mark James lesson is designed for Health care provider cardiopulmonary resuscitation renewal and doesn't incorporate any 1st aid re-certification. Cardiopulmonary resuscitation level HCP re-certifications take approximately 4 – 5 hrs to complete and passing Individuals acquire a re-cert award which satisfies the same certification criteria as compared to the initial certificate. Individuals need to satisfy several prerequisites ahead of signing up into the class. In order to register search towards the base of this webpage to pick out the course location, time and date.
Registration Prerequisites
Participants need to satisfy the following two registration criteria to be qualified for a St Mark James Health care provider CPR and AED re-certification course through Thunder Bay First Aid: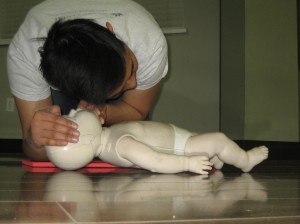 Candidates Applicants must have attended the previous CPR level "HCP" certification course within Canada and through a credible St Mark James provider.
Customers Candidates must have completed the previous full Health care provider CPR and AED certification class within the past 3 years.
Any time Customers do not satisfy these criteria they must redo the full CPR level "HCP" program.
Workplace Approved Certification
Participants that pass the course will obtain a a St Mark James Health care provider cardiopulmonary resuscitation (CPR HCP) certificate. This unique card is current for 36 months and fulfills numerous government, school and employment standards.
Training Course Specifics
The fee for the re-certification training course is — dollars and requires about 4 to 5 hrs to pass. Thunder Bay First Aid proudly offers the most competitive prices inside the Thunder Bay region. Class teaching lengths are mandated through St Mark James.
Registration
In order to enroll for a CPR HCP renewal program choose the lesson date and time out of the selection below and fill out the course registration form.
Private Courses
Private training is offered for health care provider cardiopulmonary resuscitation (CPR HCP) re-certs. To schedule a private course contact us through phone or e-mail.
Should you have any questions or concerns concerning cardiopulmonary resuscitation HCP re-certifications please feel free to let us know through telephone or e mail.