Fact Checked
Children have always been notoriously difficult to manage in the hospital, with their fear of being separated from them parents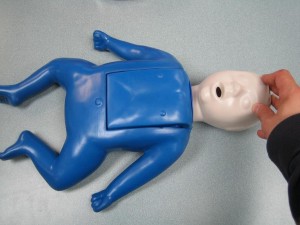 as well as fear of medical procedures and personnel. That's why health care providers have to study pediatric management extensively, especially medical procedures such as cardiopulmonary resuscitation (CPR). Thunder Bay First Aid has high quality Pediatric Advanced Life Support training available at very affordable rates.
Enrollment for PALS training is really easy. We have made an online application form below, so students can sign up whenever they are available, instead of visiting us in person during our business hours (8 AM to 5 PM during weekdays). All requests are received by us as soon as you click submit, but will only be processed during the next business day. You can expect a reply of confirmation from us during that time.
Pediatric Advanced Life Support
The PALS program is an advanced course for health professionals, with a total of 14 class hours spread out over two days. The curriculum is quite extensive, accounting for the long program length. It is specifically targeted towards health care providers who manage cardiac and respiratory emergencies in a hospital setting. If you need training and certification in advanced pediatric CPR, Thunder Bay First Aid offers the best quality program at the most affordable rates.
Before you can enroll for the PALS program, you need to take Basic Life Support for Health Care Providers training and have a valid credential for it during the time of application.
Looking at the PALS curriculum
There are many changes made to the adult management of cardiopulmonary emergencies to make them fit to the needs of a child in pediatric management. In CPR, the main difference lies in the performance of compressions. Because children are smaller and have immature bodies, regular forceful CPR meant for adults can greatly damage their bodies – causing fractures and internal bleeding. This is why giving compressions to infants is very different from giving compressions to toddlers and younger children. Two fingers are used to compress the chest in infants and one hand for toddlers and younger children. The main rule in compression depth is a third of the anterior-posterior diameter – usually 1 inch in infants and 1.5 inches in toddlers.
Ventilations are given the same way, by tilting the head back, pinching the nose, and giving two full breaths. However, since we train students to manage emergencies in a medical set up, we train them to use bag valve masks (BVMs) to provide ventilations to a patient. We also introduce them to the management of patients with an advanced airway, meaning a patient who is intubated or has an assistive device in his/her airway.
PALS credentials from Thunder Bay First Aid
The credentials we grant students are only valid for three years, in according with the Canadian laws. Students are expected to attend and complete PALS refreshers every three years in order to qualify for another set of certification exams. The same rules apply – pass both written and skills tests and you will be awarded a new PALS credential.